While googling paper museums recently (oh the things I do for fun :)) I came across Elevated Cardboard, an exhibit that opens on April 5 at The Museum of Craft and Design in San Francisco. It will feature cardboard sculptures created by ten artists, one of whom is Jason Schneider.
I think you'll enjoy seeing these fascinating images that prove Jason's keen appreciation of the lowly material. Of course, lowly doesn't apply when he takes cardboard in hand.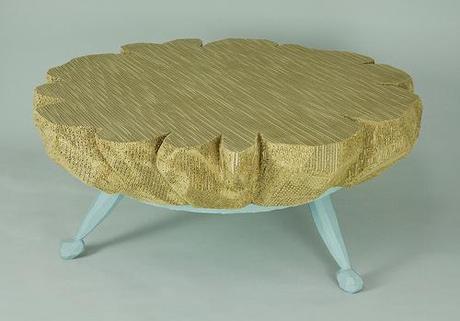 EXQUISITE CARDBOARD TABLE (spinning table) 2010 – corrugated cardboard, ash, milk paint 40″ x 17″
Jason's BFA and MFA degrees are in Furniture Design. Although his training material was wood, he  told me, "I think in corrugated cardboard. I approach my work as a woodworker, having access to a state of the art woodshop at the Anderson Ranch Arts Center [in Snowmass Village, Colorado]. The tools I use most are the table saw, bandsaw, the woodturning lathe and sanders and grinders."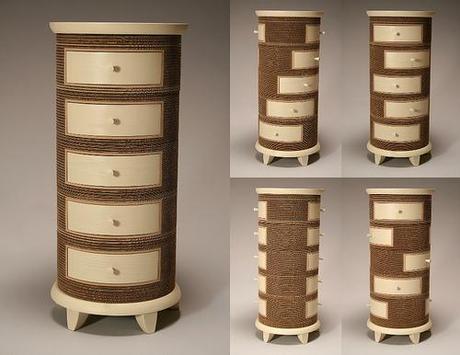 SPIN 2007 corrugated cardboard, ash, milk paint 17″ x 36″
SPIN is a small chest of drawers made of corrugated cardboard and ash. Each drawer unit is resting on a lazy susan, allowing the piece to rotate to an infinite number of drawer arrangements.
"A big part of my interest in working with corrugated cardboard is starting with a flat sheet of familiar cardboard stock and building the layers up to something that I can take to the machines. I can change the direction of the corrugations and ultimately change the visual texture and transparency of the forms I make. I often combine painted wood elements to complement and help support the cardboard."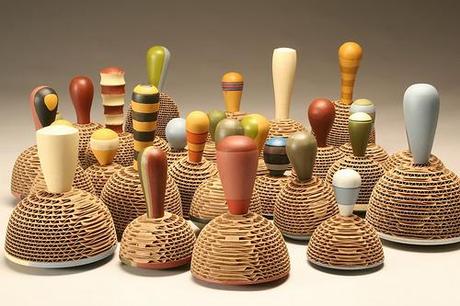 WOBBLE TOPS 2006 corrugated cardboard, poplar, milkpaint – approx. 5″ x 4″ diameter
Jason looks at creating cardboard furniture, sculpture, and two-dimensional artwork as "an exciting challenge that often results in a surprisingly elegant, and sometimes whimsical, surface and form."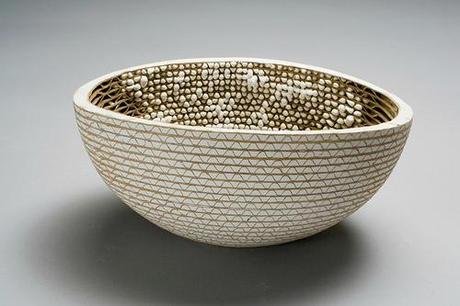 PLASTER PUSH 2007 corrugated cardboard, plaster 5″ x 10″ diameter
He is currently the Studio Coordinator of the Furniture Design and Woodworking program at the Anderson Arts Ranch Center where he will teach two woodworking workshops in June. A Corrugated Cardboard workshop is scheduled for the summer of 2015.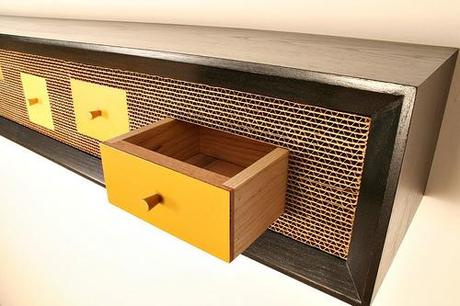 YELLOW CABINET (detail) 2006 corrugated cardboard, ash, milkpaint 42″ x 6″ x 8″
In June of this year (13-15), Jason will be demonstrating how to turn corrugated cardboard at the American Association of Woodturners Annual Symposium in Phoenix, Arizona.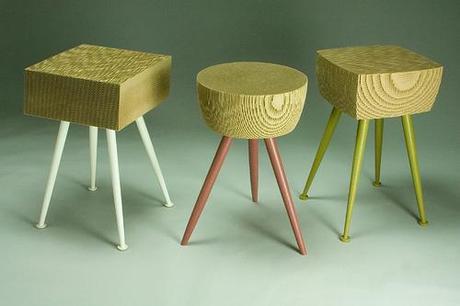 TABLE STUDIES 2010 corrugated cardboard, ash, milk paint – 16″ x 16″ x 24″ each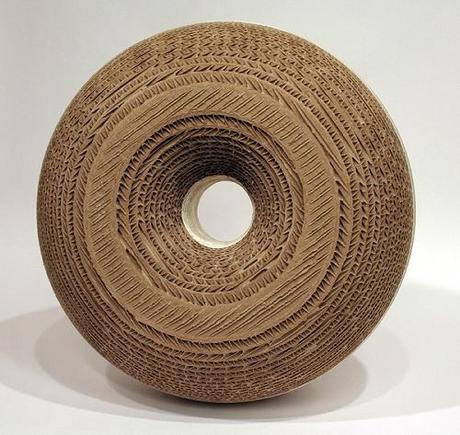 EXQUISITE CARDBOARD  (detail) 2010 corrugated cardboard and plaster 12″ x 5
See more examples of Jason Schneider's work on his website.